Eletromidia offers its customers and advertisers an integrated platform of OOH media solutions across Brazil, which allows continuous, repeated reach to consumers, being part of their daily lives, whether in residential elevators, on the streets, on public transport, in the office elevator, or when at a shopping center.
More than just reaching consumers, we are at the intersection of traditional OOH media and AdTech companies, providing the best that each of the solutions has to offer. On the OOH side, we benefit from wide reach among consumers, a high attention span, and the ability to run videos that cannot be interrupted, while also offering advertisers favorable AdTech features, such as dynamic content and real-time data analysis.
Our competitive advantages
We believe that we offer a competitive edge that is hard to replicate and will drive our profitable growth strategy. These advantages include:
1. Leadership position in the market, with relevant scale and a diversified portfolio
We are the largest OOH media company in three of the five channels we operate in, in terms of revenue, which is an appealing solution for advertisers by providing reach to a wide audience in a coordinated manner, aligned with brands' communications strategies. We have the highest share of digital screens in Brazil according to IVC1, with 68% of the portfolio, compared with only 3% for the second-largest company in the segment. This enables greater ad customization, efficiency and agility in our operations.
Eletromidia: industry leadership – after the merger with Elemidia, Eletromidia became the leader in the OOH market.
2. Wide reach, with a presence in the most relevant locations across the country
On September 30, 2020, our 54,000 screens had a daily audience of approximately 22 million people, which means that about 10% of the Brazilian population is exposed to our ads each day. We reach about 86% of the population of Rio de Janeiro and 46% of the population of Sao Paulo – the top two economies in the country – on a daily basis.
In Sao Paulo, on September 30, 2020, millions of people pass our transport assets ever day. Our different formats are found in subways, with (i) TV Minuto – screens on Blue, Green, and Red Line trains – (ii) in the stations and on platforms on the Lilac and Yellow Lines, in addition to being on the entire CPTM transit network, covering 94 active stations and connecting 23 leading municipalities. In addition, 33.5 million people a month are impacted by our presence in 34 shopping centers in Sao Paulo, with an audience that is predominantly social classes A and B, in shopping centers such as JK lguatemi, lguatemi São Paulo, Cidade Jardim, and Eldorado. Additionally, we have a strong presence in the commercial and residential elevator segment.
In Rio de Janeiro, more than 3.3 million people see our transport assets daily. Our various formats are present in MetroRio, Supervia (the largest public transport system in Rio) and the VLT (light rai network). We also have a presence in the airport segment in RioGaleão, one of the largest international airports in Brazil. In addition, 16 million people a month are impacted by our presence in 16 shopping centers, with an audience that is predominantly social classes A and B. Finally, we are also present in the region through digital and static stands in the main neighborhoods in Rio de Janeiro.
3. We have a proven track record and a experienced management team
We were founded in 1993 in Sao Paulo, and since then we have adapted to consumers and brands, always providing the best possible OOH media solution. In 2013, when we had only 1,400 panels, 98% of which were static, the American venture capital fund manager H.I.G Capital saw our potential and invested in the company, helping us grow and improve our management.
We began a strategy to consolidate the market in 2015. In November of that year, we acquired OMS and the company that has the advertising contract on Line 4 of the Sao Paulo Subway; we then bought TV Minuto in 2017, Hyperfator in July 2018, and Elemidia in January 2020. This strategy was extremely successful, and we gained synergy in terms of revenue and costs after the integration of the acquisitions with our structure, proving our ability to execute and integrate new businesses.
Besides our growth path through acquisitions, we implemented an organic growth strategy by signing new contracts in diverse segments: transportation, airports, and shopping centers. In 2016, we signed new contracts in the transport segment, with the VLT (light railway) and Supervia in Rio de Janeiro and CPTM Digital at the Bras and Barra Funda stations in Sao Paulo. In 2018, we signed new contracts to explore digital and static media on the Lilac Line and static media on the Yellow Line of the Sao Paulo subway, while in the airport segment we signed new contracts with RioGaleao, and the Porto Alegre and Fortaleza airports that are managed by FRAPORT.
4. We are innovating in Brazil's OOH market with digital technology
We have the largest portfolio of digital panels in Brazil. On December 31, 2019, we had 37,000 digital panels, accounting for 68% of our total portfolio, positioning us as the outright leaders in the Brazilian industry. According to a study by IVC, the second largest company in the segment had 22,000 screens, of which only 3% were digital.
Digital panels are more appealing to our customers and advertisers because they allow (i) greater creativity in campaigns, creating a bigger impact on the audience with the use of moving images, (ii) clients can run ads that cannot be interrupted, and (iii) greater campaign flexibility and dynamics due to the efficient distribution of content to digital screens through our operations center at our headquarters.
In addition to the greater appeal of digital panels through the use of additional digital technology on our screens, we believe we can offer a superior solution to brands and advertisers while increasing their return on investment in advertising.
Our recent data and services strategy is today based on capturing audience data through connectivity solutions, such as Wi-Fi hotspots, as a new point of contact with the audience and a new source of revenue from advertisers, in addition to offering greater satisfaction to passengers and asset owners. We also offer additional communications solutions for our partners and the environments in which we operate, providing new services through additional tools, such as the MeuCondomínio app.
We have also integrated with the main programmatic media platforms, such as Rubicon, Verizon, and MediaMath, to provide greater scalability for our solutions, increasing profitability and the scope for advertisers, and making international expansion possible in the future. This platform integration offers features ranging from planning support, to media buying.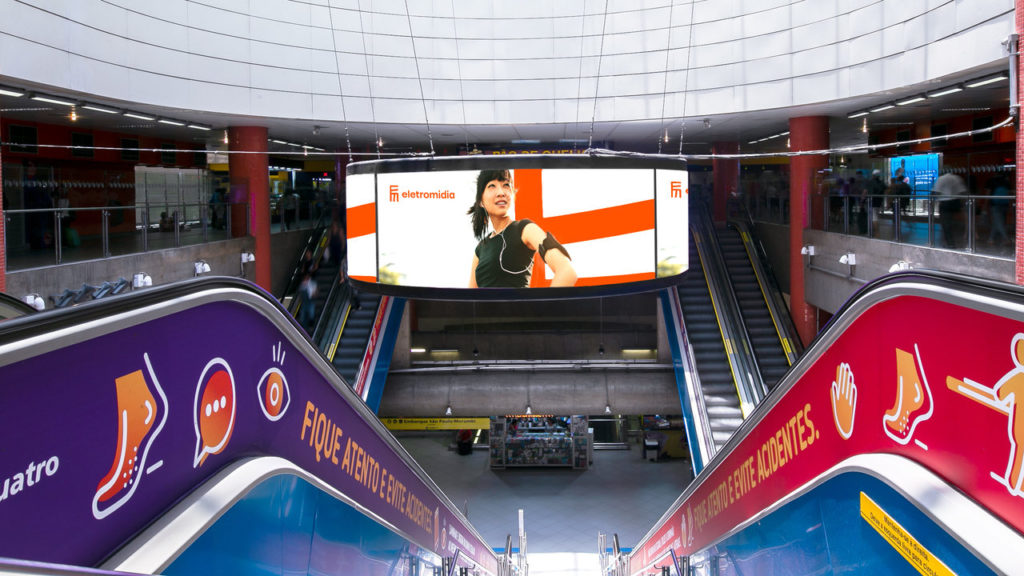 5. We have a quality client base, with a long-term, highly diversified relationship
Our differentiated value proposition has been proven by the quality of our client base, with global brands with a data-driven advertising strategy.
For example, the technology sector now accounts for some of the highest revenues.
As a way to measure the impact of the campaigns we run for our clients and prove our effectiveness, today we use a combination of tools through which we capture data in a proprietary way, such as Quivid and Wi-Fi, and data from third-party tools, such as lbope and Geofusion. Additionally, an initiative to standardize the OOH market metrics in Brazil, called Mapa OOH, is being rolled out. The purpose is to provide audience, reach, and frequency data for OOH media planning to be compared to other media. Once rolled out, it will be a major advance in metrics in the OOH industry.
We have highly dispersed revenue streams, with our ten largest clients accounting for approximately 23% of consolidated pro-forma revenue for 2019, while our largest individual client accounted for 3.2%, attesting to our strategy of diversifying clients and channels. Our ten largest clients in 2019 has been with us for an average of nine years.